Portable Interactive Floor System Projects Immersive Environments for Multisensory Learning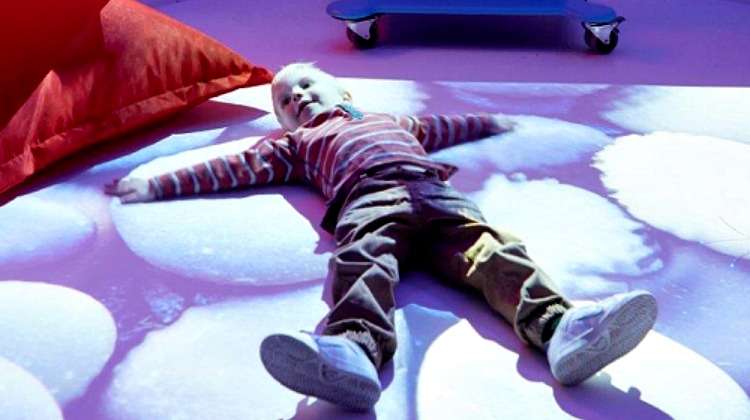 images: EXPERIA
The Portable Interactive Floor System by Experia offers educators and therapists a unique, inclusive, multisensory solution designed to develop a range of physical and cognitive skills for users of all ages and abilities.
The Portable Interactive Floor System is a fully inclusive solution that can project images onto the floor or ceiling to create immersive worlds with a range of unique interactive experiences and possibilities. The system uses an overhead camera to detect body movement, allowing even users with limited movement to interact with, explore and alter a number of aspects of the virtual environment. The interactive floor can be used by educators and therapists to create programs designed to target specific educational needs and engage users in a multisensory learning experience. Users can interact with the environment by standing up, using a wheelchair or lying on the floor or in bed.
The Portable Interactive Floor System offers a wide range of effects that can be used to create structured sequences and allows teachers to add any image, audio or video file to build customized programs. Pre-installed games available with the system include Whack-a-Mole, Splat the Insects, and Scatter the Stars. The system has lockable wheels that make it easy to move it from room to room.
The Portable Interactive Floor System is designed for use in schools, including special schools, nurseries, hospitals and hospices. It can be used to train various social, cognitive and physical skills, including social interaction, turn taking, switching, gross motor skills, sequencing, hand-eye coordination, colour, shape and number recognition, cause and effect, and tracking skills. The system is well suited for users with developmental and learning needs, including autistic spectrum disorder (ASD), visual impairment, physical difficulties, and severe and moderate learning difficulties (SLD and MLD).
Experia is the UK's leading developer and manufacturer of wireless multisensory equipment designed for all ages and abilities. The company is dedicated to creating innovative, intuitive environments that give users unique experiences with more freedom and functionality than they thought possible. Watch the video below to see some of the experiences available with the interactive floor.