New WizeFloor Wall Mode and Dungeon Jump App Presented at Bett Show
BY: FG Team
8 February 2017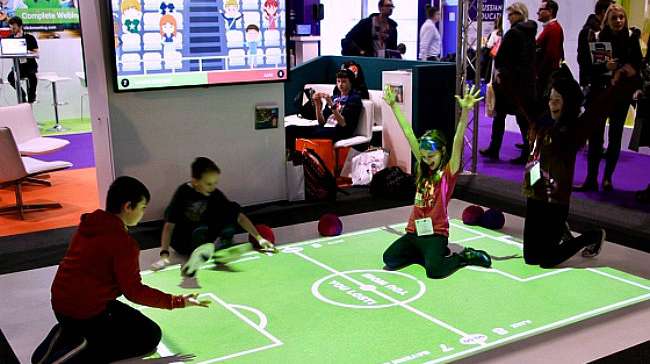 images: WIZEFLOOR
The new WizeFloor wall mode and premium app Dungeon Jump were showcased at the 2017 Bett Show in London in January.
WizeFloor, the interactive floor developed by the Danish Alexandra Institute, was one of the many unique education technologies featured at the 2017 Bett Show, held at ExCel London in London from January 25 to 28. This was the fourth time the floor was featured at the event, where it was nominated for a Bett Award as one of the best solutions in the category "ICT Tools for Learning, Teaching and Assessment – non web-based" in 2016. This year, several interesting updates were showcased with the floor and the popular educational tool was once again received with a lot of enthusiasm.
WizeFloor is an innovative, award-winning interactive floor developed to promote collective and differentiated learning styles through fun interactive games and active play. Using a ceiling projector, educational games and exercises are projected onto the floor, encouraging children to interact with the colourful graphics and collaborate with each other as they play.
The floor drives children to learn through physical movement and to improve their social skills through teamwork and collaborative gaming. The applications available with the floor allow users to easily customize the existing games and create new ones of their own. Most of the applications can be edited and new content – images, sounds and text – can be added to create new games and exercises for any age group. The games are targeted to children aged 3 to 12 and suitable for children with special needs.
The new offerings available with WizeFloor, presented at this year's Bett Show, include a new software release that features a new wall display and a new premium app called Dungeon Jump. Dungeon Jump is a game designed to train memory and spelling that will make a fine addition to the existing roster of games developed specifically for the floor. These include Stepstone, a Twister-inspired quiz for four players, Floor Keyboard, which challenges kids to collaborate to spell different words, Geometrix, which develops their understanding of geometric shapes, and Football, which is now available with spectators on the wall display.
Watch the video from the event to see some of the other games available with WizeFloor.