Unyte Offer Guided Meditation in Virtual Worlds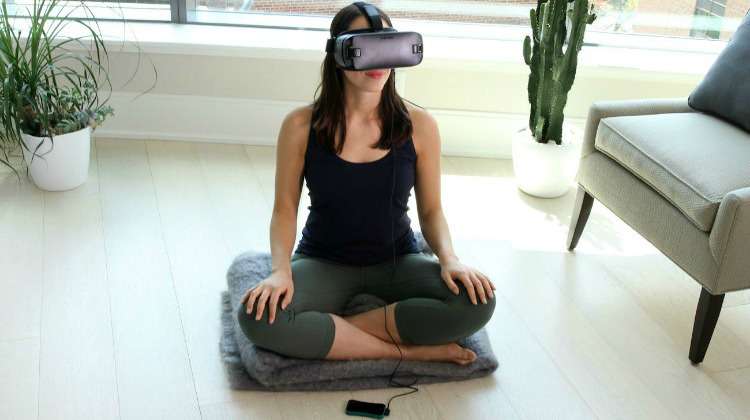 images: UNYTE HEALTH
Unyte combines meditation techniques with biofeedback and virtual reality to guide users through interactive meditation.
Unyte is a unique solution for interactive meditation that uses immersive digital and virtual reality experiences, biofeedback technology, and elements of gaming to make meditation easier and more fun to learn and practice. Combined with a VR headset, the device offers a fully immersive experience, transporting users into virtual worlds to help them master meditation and reap all of its benefits. These include stress management, productivity gains and better overall health.
Meditation can be challenging to learn using traditional methods and what makes Unyte unique is that it offers more than 50 interactive experiences to teach users to meditate more effectively using specific mindfulness, breathing and relaxation techniques.
Unyte uses a biofeedback device called the iom2 that users can attach to their ear to measure their physiological state. The device monitors users' heart rate variability and sends the data to their computer, tablet or phone in real time. To start meditating, users can simply select an experience and follow the guide and in-game breathing indicator to see their resonance score gradually increase and to make progress in the game.
The iom2 was created in collaboration with electrical engineering firm Assembly to offer users an entirely new clinical grade biofeedback platform. The low-cost device connects to the user's body by ear clip and captures the relevant data in real time. The iom2 sensor mainly tracks heart rate variability, which is a strong indicator of the user's meditative state, and there are plans to add another sensor to track galvanic skin response, a change in the amount of sweat secretion and electrical resistance of the skin caused by emotional stress. The design of the device allows for other new features to be added in the future.
The Unyte device was developed by Unyte Health, a Canadian digital health company dedicated to helping people discover the most effective, evidence-based solutions to reduce anxiety and stress, relieve pain, improve coping skills and creativity, and live healthier and happier lives. The device is expected to start shipping in September.