SuperDeker Helps Hockey Players Improve Their Passing and Stick Handling Skills
BY: FG Team
25 August 2017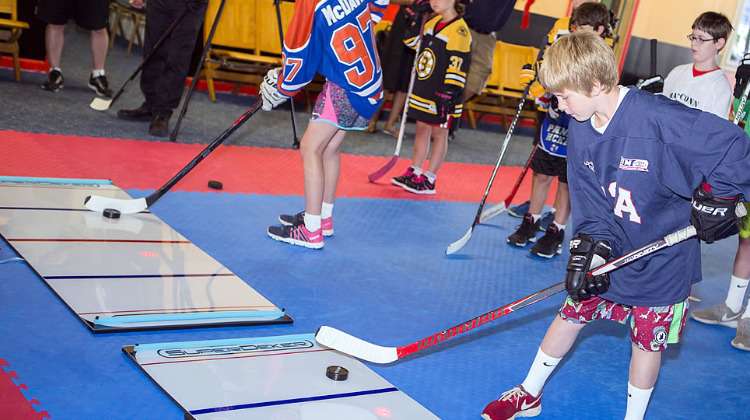 images: SUPERDEKER
SuperDeker is a sophisticated hockey training system that uses interactive games to help players improve their passing and stick handling skills.
SuperDeker is an interactive hockey training system that uses games to develop players' passing and stick handling skills. The system comes with an ice surface, an ePuck, rebounder bands, a power cable and a bottle of zero-friction ice spray. The ice surface is 67 inches (170 cm) long, 28.5 inches (72 cm) wide and made of high-density foam and low-friction polycarbonate, allowing the puck to glide just as it would on real ice. For an even smoother experience, players can add the SuperDeker Ice Spray.
The surface has a built-in score board with sound and lets players select a game and track the time and score without looking away from the game. The integrated sensor tracks the location of the puck on the ice surface at all times. The high-tension rebounder bands are made of high-density silicone and enable pass back action during training.
The platform uses an indicator light to challenge players to stick handle or pass the puck over the light to score points. Each time the puck crosses over the light, the system sounds a beep. The games that come with the platform are only 45 seconds long and always keep the players guessing where their next pass is going to be.
The system offers three ways to play. The Training mode helps players maximize their stick handling skills. The Hot Shot mode offers advanced training for highly skilled players. The Speed Passing mode trains fast and accurate passing. Players can also use the SuperDeker to develop their teamwork skills, as the system allows two players to play at the same time.
SuperDeker is suitable for players of all ages and levels. The platform is very easy to assemble, consisting of two interlocking boards that are simply snapped together, and can be set up in less than 10 seconds. Once the system is assembled, players only need to plug in the power cable and select their game to start playing.
Watch the video below to see a two-player demonstration.