Hackaball Teaches Kids to Code Their Own Active Games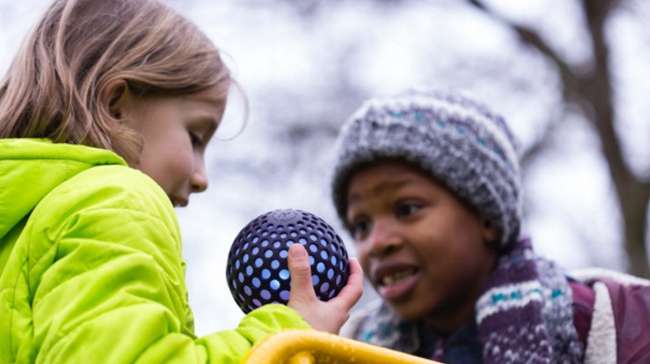 images: HACKABALL
Hackaball is a smart programmable ball that comes with an app that children can use to create and play their own active games.
Hackaball is a connected responsive ball that encourages children to learn the basics of coding in order to create and play an endless variety of active games. Designed for kids aged 6 to 9, the award-winning product appeals to kids' fascination with gadgets and technology and encourages creativity and collaboration, but does not confine kids to a desk or screen. The ball works with the free Hackaball app for iOS mobile devices and Mac operating systems to allow kids to code their own active games and learn through creativity and play.
Hackaball combines digital indoor play with traditional outdoor games to motivate kids to get active and physical. Kids can program the ball before they start throwing it about in various games. The ball has a rubber exterior and can be chucked around freely. It uses sensors, lights and sounds that can be customized to allow kids to design their own gameplay. The sensors inside the Hackaball can detect motions like being shaken, kicked, bounced or dropped. The ball comes with several pre-loaded games to get kids started.
Hackaball offers children a uniquely rewarding experience because they get to be part of every stage of the programming cycle, from assembling the ball to testing and refining it. The kids can see instant results every step of the way. They can program the ball's behaviour to create new games using the iOS app and then upload the games to the ball to start playing. The app has a simple, straightforward building block interface that lets kids experiment with the lights and sounds to invent new games. Additionally, it challenges kids with broken games that need to be fixed, rewards them by unlocking new features, and allows them to share their games with friends.
Hackaball allows kids to create an unlimited number of games, which they can play by themselves, in pairs or in groups. Watch the video below to see some of the active play options possible with the ball.