E-Skin Smart Motion Capture Shirt Delivers Immersive Experiences and Motion Analytics
BY: FG Team
6 October 2017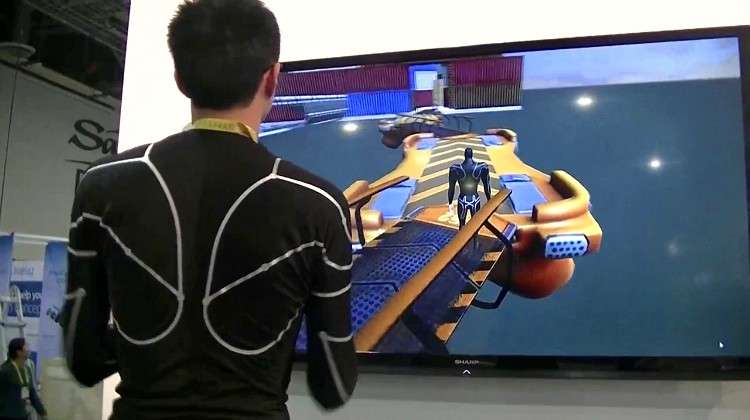 images: XENOMA
Xenoma's e-skin motion capture shirt allows users to track, collect and analyze motion data while exercising, playing games or interacting with virtual reality content.
The e-skin smart apparel developed by the Japanese company Xenoma is an innovative tracking solution that allows users to monitor their movements and track a number of body functions, including temperature, pressure and breathing. The wearable upper body activity tracker enables motion capture without the use of a camera and offers a limitless range of possibilities and user experiences. Users can wear it as an input controller to monitor their motion data while exercising, playing active games or interacting with virtual content and environments.
E-skin uses 14 strategically placed strain sensors, a 6-axis accelerometer and a gyroscope to track different kinds of movement, including bending, twisting and stretching joints, and a central hub to transmit the collected data to a computer, tablet or smartphone via Bluetooth. The shirt offers intuitive input for a variety of immersive experiences, as well as comprehensive data that allows users to analyze their performance and track their improvement.
E-skin can be used as a game controller for a fully immersive experience in virtual worlds or as a personal trainer for tracking and improving physical fitness and performance in any sport. It also has applications in industrial safety and training and in healthcare, as it allows wearers to monitor their respiration, posture and body movements.
E-skin is highly durable, machine washable and can be worn for many hours both indoors and outdoors. It is as comfortable to wear as any regular shirt. Thanks to Xenoma's proprietary stretchable electronics, it moves and stretches with the user's body unobtrusively, allowing him or her to play or exercise without having to hold any kind of equipment.
The smart motion capture shirt was developed by Xenoma Inc., a spin-off from the University of Tokyo. Founded in 2015, the company is dedicated to developing human-friendly technologies using insights from latest academic studies.
Watch the video below to learn more about e-skin and its applications.