VisioGait and RoboGait Offer Safe, Economical Solutions for Gait Therapy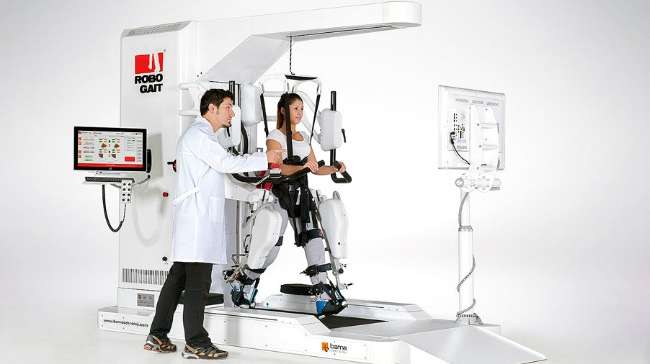 images: BAMA TECHNOLOGY
VisioGait and RoboGait combine biomechanics with innovative technologies to offer safe, efficient, cost-effective solutions for gait therapy.
VisioGait and RoboGait are innovative rehabilitation concepts that use games to increase patients' motivation and have shown effective results in gait therapy. Developed by the Turkish company BAMA Teknoloji (BAMA Technology), the products facilitate gait therapy and offer a beneficial therapy setting for patients recovering from diseases and conditions that cause gait disorders.
VisioGait offers partial weight supported gait therapy and uses an ergonomic weight balance system that combines a strong harness system and a passive weight support system to offer treatment to patients at different functional levels. It was developed specifically to address problems associated with cerebrovascular accidents and to facilitate the rehabilitation process for patients with gait disorders caused by motor neuron disease, cerebral palsy, and other illnesses that affect the walking ability.
VisioGait allows therapists to adjust the gait speed based on the patient's performance and type of therapy. The product uses a lifting system and a treadmill to offer an ergonomic setting for therapy, and also to offer patients visual motivation as their movements are transferred into the software using Kinect technology. Increased motivation leads to increased endurance, better patient compliance and more sustainable therapy.
What sets VisioGait apart from other rehabilitation game systems is that it was developed specifically to facilitate coordinated movements of the lower extremities and bring out active movements of the upper extremities. The data that the system collects is used to promote coordination and achieve therapy goals. The software available with VisioGait offers different types of therapy with different games designed to make the recovery process more fun.
RoboGait was developed for robot assisted gait therapy and is used to improve the walking ability in patients recovering after traumatic brain injury, stroke, spine injury or other orthopaedic or neurological problems. The system promotes movement of the affected lower extremities in a normal walking pattern, with controlled load transfer. It has been successful in therapy programs for stroke patients, as well as those with Parkinson's disease, cerebral palsy and spinal injuries.
Based in Ankara, BAMA Teknoloji specializes in technological research and development in the field of robotic rehabilitation systems. Established in 2010, the company combines the principles of biomechanics with mechanical and electronic design to deliver mechatronic solutions for use in the healthcare sector, aiming to provide handicapped people with access to safe, economical, innovative devices and treatment that can improve the quality of their lives.