REAplan Combines Robot-Assisted Upper Limb Rehabilitation with VR Technology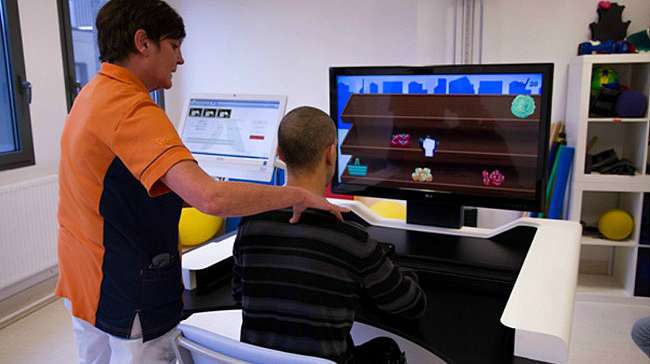 images: AXINESIS
REAplan is an interactive, auto-adaptive rehabilitation device that combines virtual reality technology with robotics to engage patients in the rehabilitation of the upper limbs.
REAplan is an arm rehabilitation system developed by Axinesis to help people with brain injury, including stroke patients, improve their autonomy and recover function in the upper limbs. Developed to simplify therapy and make it accessible to a greater number of people, the ergonomic , self-adapting robotic device uses interactive games to guide patients through repetitive tasks and retrain their brain. The robot offers automated assistance that adapts to patients' performance, allowing them to keep performing the same movements repeatedly.
The rehabilitation games available with REAplan challenge patients to follow a dot on the screen as the robot moves with them, offering them different degrees of resistance that depend on the patient's individual needs and abilities. The graphic interfaces improve patients' motivation during therapy while the system's automated data post-processing feature makes it easy for clinicians to track patients' progress. The REAlab software allows therapists to program and manage each therapy session and adapt the exercises to individual patients.
REAplan offers personalized treatment through a real-time interaction between the patient and the robot, engaging the patient in therapeutic play and providing automated assistance with arm movement. The intensity of the movements that patients must perform to play the games optimizes neuroplasticity, helping children with cerebral palsy and adult stroke survivors recover and develop their motor skills. REAplan can be used to treat a range of other conditions and illnesses, including dyspraxia, unilateral spatial negligence and spinal cord injuries.
The device can be used in all stages of rehabilitation and is based on more than nine years of research and clinical trials conducted in seven rehabilitation centres. It has been used with more than 300 patients and the results indicate improved recovery of the impaired upper limbs.
Axinesis, the company behind REAplan, is a spin-off of the Université catholique de Louvain (UCL) in Louvain-la-Neuve, Belgium. The medical technology company specializes in developing innovative solutions that assist with the neurological rehabilitation and functional recovery of the upper limbs in patients affected by brain injuries. REAplan, the company's first product, complies with all European quality standards and it received CE 93/42 mark approval in 2016.