WallJAM Training Wall Helps Users Improve Ball Skills Through Interactive Sports Challenge
BY: FG Team
21 September 2016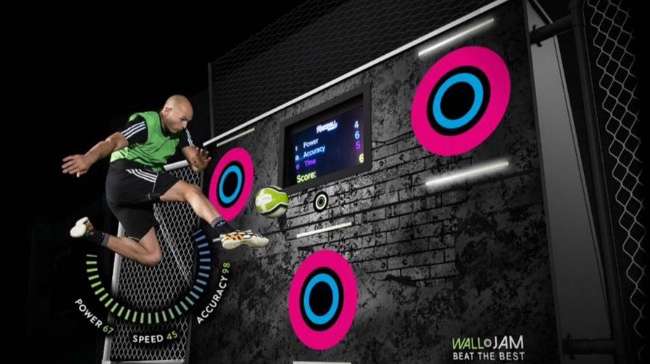 images: WALLJAM
The WallJAM interactive training wall is a sporting arena that allows users to improve their ball technique and fitness level by practicing different ball sports.
WallJAM, an interactive wall developed to drive individual and group performance in sports training, offers users a unique sporting arena with smart technology that enables them to train, play, compete and improve their technical skills in different ball sports, including football, basketball and tennis.
Suitable for users at any level, WallJAM acts as a coach, competitor and team mate, immersing users in fun gameplay while simultaneously inviting them to master different drills and difficulty levels, benchmark their performance, and track their development. The platform uses interactive targets to track users' scores based on power, strike accuracy and overall performance. Users get real time feedback and results on a LED high resolution screen, which also shows them the rules of the game and the order of play. The interactive wall also has an integrated stopwatch, which adds pressure to gameplay and allows the scores to be benchmarked.
WallJAM can be used for fun and games, but it also offers a variety of options for individually tailored competitions and drills to improve different skills, including eye to ball coordination, power, pass and go, penalty shots, pace, and touch and control. The platform makes it easy for users to pinpoint their strengths and weaknesses and to work on areas that need improvement. For extra motivation, WallJAM connects users with their friends and other users through online leagues to drive competition and challenge users to climb the league tables in different disciplines.
No matter what sport the user chooses to practice, the innovative design of the training wall encourages consistent return of the ball. Additionally, the wall is available with or without the WallJAM Power Goal, a system of powder coated wall posts and two tensioned rebound nets that are positioned on either side of the interactive target zone.
WallJAM is a highly adaptable sports platform and can be placed just about anywhere. It is available in a mobile or fixed format. The fixed wall is designed for outdoor use, while the mobile version can be used both indoors and outdoors.
WallJAM was developed by WallJAM Limited, a UK-based company dedicated to developing smart technology to encourage people to participate more in sport, create sporting habits, improve their performance, and share and compare their results with others. Watch the video below to learn more about WallJAM and see the platform at play.
 Watch the video below to learn more about WallJAM and see the platform at play.