TruGolf Simulators Bring Fully Immersive Golf Practice and Play Experience to Indoor Environments
BY: FG Team
31 August 2016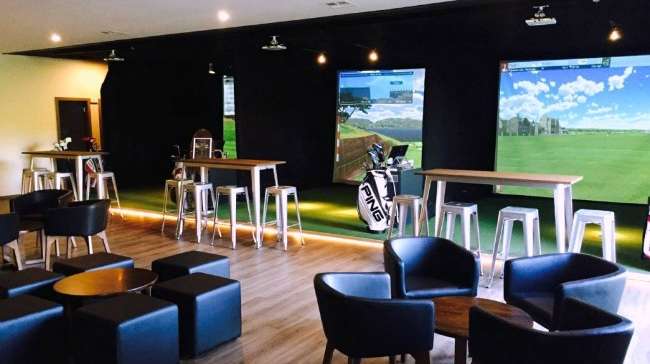 images: TRUGOLF
TruGolf simulators offer a diverse range of options for indoor golf practice and virtual games, giving golfers an opportunity to play and improve their skills throughout the year.
TruGolf indoor golf simulators and virtual golf software enable golfers to practice their technique and play different games anywhere, at any time. The standard-setting simulators are built to provide users with an immersive, realistic golf experience and eliminate factors like weather, location and daily schedule, which can otherwise stand in the way of regular practice.
A leader in golf simulation technology, TruGolf offers a versatile range of simulators for different environments and budgets. The simulators are easy to set up and use, and they come in many different sizes. Designed to ensure that golfers always have new experiences to discover, the simulators offer users 36 modes of play on any of the 85 famous golf courses around the world. When they are not being used to play golf, TruGolf simulators can also double as fully interactive home theatres system.
The Vista Series of TruGolf simulators, comprised of four affordable portable simulators that are easily adapted to any environment, challenges golfers' mental toughness and gives them accurate biometric analyses while immersing them in gameplay using high-definition images to bring the golf courses to life. The Technique Professional line offers the same kind of swing analysis as the company's higher-end products, but is far more affordable and easier to transport and store. The Technique Personal range, which is also portable, is designed for all those looking to improve and maintain their swing throughout the year. It can be used both at home or in commercial environments.
TruGolf's full size golf simulators are freestanding self-contained units that can be used in any indoor environment. The Signature simulator is an ideal solution for use at home and at indoor golf facilities. Offering users the same analytics used by golf professionals and instructors, the unit comes with the TruTrack2 tracking system with integrated swing analysis, which combines two different tracking technologies to deliver the data that golfers need to improve their skills. Also available with the Technique portable simulators, the tracking system uses sonic triangulation positioning techniques and optical analysis of the clubface angle and club path to offer accurate data on ball flight characteristics. The data is displayed on a swing analysis screen in real time, delivering the key characteristics of each swing instantaneously to users, including launch angle, back spin, ball speed, side spin, direction, and carry.
The Horizon, the company's largest simulator, also comes with TruTrack2 and an immersive 17' screen, inviting players to experience virtual golf in 3D. Users have the option to upgrade to a curved screen and an awning. The curved screen brings out the realism of the golf simulation provided by the E6Golf software, delivering a fully immersive virtual experience.
The Premium Residential golf simulator is very adaptable, with a varied range of customization options that make it easy for users to create a golfing environment they can fully enjoy. Designed for home use, the simulator has sound dampening panels to reduce the noise and comes with elegant wood trim that can be customized to match the environment.
The Premium Commercial model enables users to take golfing lessons, practice, fit clubs and play. Developed for indoor golf studios, the simulator is used by PGA professionals across the globe. The awning can be customized to feature company logos and the system itself has a lovely wood trim, carpeted wood panels, and a steel frame built to endure frequent use.
The E6Golf simulation software does not only provide users with a highly realistic simulation of golf, but also with advanced and accurate swing analytics to help them keep track of their performance and offer insights into the ways to improve their game.
TruGolf is dedicated to developing industry-leading golf simulation technology and state-of-the-art golf software. Spun off from Access Software in 1999, the company has since reaped dozens of awards and seen its products used by colleges, universities, country clubs, indoor golf facilities, professional golfers, golf teams, and home users around the world.