The BotBoxer - a Revolutionary Combat Sport Device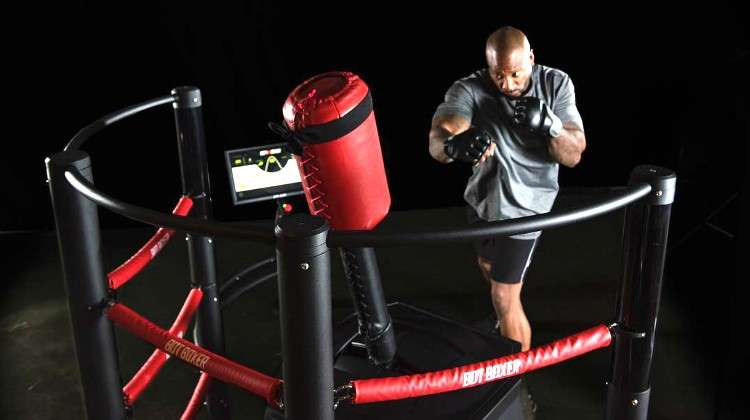 images: SKYTECHSPORT
BotBoxer is an interactive boxing simulator designed both for combat sports professionals and enthusiasts.
BotBoxer was created by SkyTechSport, a team of sports fans, pros, tech geeks and designers who over the years have worked to create smart sports equipment. Their first cutting-edge product was the SkyTechSport Ski and Snowboard Simulator which helped to recreate the experience of snow sports and features state-of-the-art virtual reality systems, and the BotBoxer is next in line in their product development.
BotBoxer is designed to be an indoor training device for combat sports professionals and enthusiasts, since going to the gym is not always convenient. It is designed to provide the complete sparring experience at whatever level the user requires.  It is designed with special sensors which allow it to react just the way a professional boxer would. It has high-speed computer vision and motion recognition which helps it track the user's every move, spotting any oncoming hook or jab. It has a set of sensors which helps it read force, velocity, and direction of every shot thrown at it with absolute precision.
This device works in three ways- as a trainer, a sparring partner or a combat opponent.  For the free training, the user can tailor its behavior to their level of expertise, adjusting its unique parameters such as how the bot moves, its reaction time, or the percentage of mistakes the bot makes. There is also an opportunity to control the sensitivity of the device, which is the feature that allows it freeze up after a punch creating room for a combo.
For the drills, users can leverage the BotBoxer in advancing their technique. All they need do is choose an existing workout with punching combinations they feel the need to improve. In addition to acting as a personal trainer, this device takes note of mistakes which the user makes and provides a detailed statistic of the performance so they know how to track their performance.
Mimicry is one of the unique features of the BotBoxer as it can simulate all fighting styles, examining the strengths and weaknesses of an opponent of any level. Once its abilities are set, the user can begin combat with a machine that possesses human qualities and never-ending endurance.
The device is an all in one combat companion which comes with different training modes to keep workout sessions fresh and exciting. The ease of customization allows users tailor their training to their individual needs, goals, workout intensity and schedule. It provides a series of workout to improve the user's speed, strength and reaction time. It is designed for use in gyms, health and fitness clubs, leisure centers or even at home.
Finally, the BotBoxer is a cutting-edge training machine that brings a new angle to martial arts. It is designed to help train the speed and power of an athlete's punch simultaneously and this is probably its most unique feature.
If you want to see BotBoxer in action, take a look at the video below: