SpaceWalkerVR Omnidirectional Walking Simulator Allows Users to Freely Move Around in Virtual Worlds
BY: FG Team
17 October 2016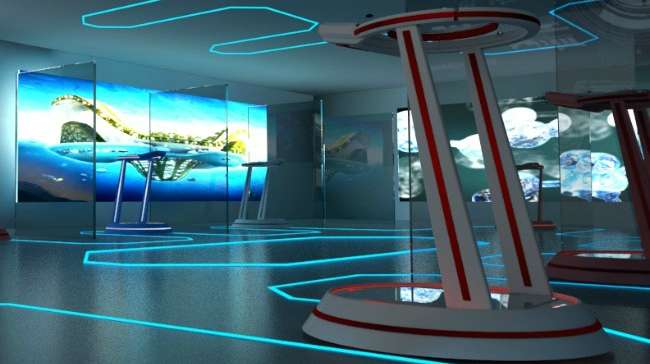 images: SPACEWALKERVR
SpaceWalkerVR is a virtual reality walking simulator that allows users to walk, run and turn 360 degrees while exercising or playing games in virtual worlds.
SpaceWalkerVR is the first motorised, sensor-controlled walking simulator that combines virtual reality with technology that enables users to walk, run and turn 360 degrees while immersed in virtual environments and gameplay. The system has a 360-degree turntable that has four electric motors and is controlled by a gyroscope or joystick. It automatically turns to the direction of the user's body.
With pressure sensors that detect users' footsteps, the platform delivers a perfect walk simulation or treadmill experience to users of any age or fitness level. The joystick control offers a number of different functions, including enter, fire, turn, up-down arrow and left-right arrow. Users can control the walking and turning speed using a control button and they are kept safe by a 3-point seat belt and a safety ring. The platform itself is very safe, using 2x24v for walking and 4x12v for rotation.
SpaceWalkerVR is an engaging fitness tool, with the 360-degree treadmill offering a safe walking, jogging or running workout to users looking to lose or manage weight or simply improve their fitness level. The omnidirectional platform offers complete freedom of movement for the human body, allowing users to completely immerse themselves in various adrenaline-driven virtual games or to explore different architectural projects and tourist destinations. Made of sheet metal and fiberglass, the platform has a strong, resilient body built to endure frequent use. It supports popular virtual reality headsets, including Oculus Rift, HTC Vive, Samsung Gear VR and Google Cardboard.
SpaceWalkerVR is based in Istanbul, Turkey. The company specializes in developing innovative virtual reality technologies, including VR content, hardware, visual effects, virtual games and 3D animation. The company's flagship product was designed to improve users' fitness level and overall health, as well as to offer them a new way to experience gameplay. The walking simulator can also be used in schools and museums, as it makes an excellent tool for walking tours of some of the world's best known historic sites or even other planets. Watch the video below to learn more about the platform and its versatile range of applications.