Reax Lights Use Unpredictable Stimuli to Deliver More Efficient Reaction Training
BY: FG Team
23 November 2016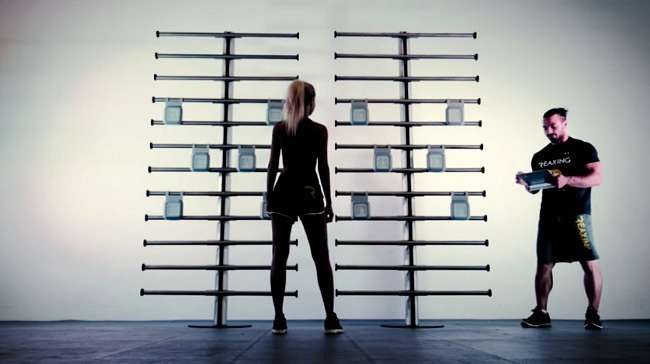 images: REAXING
Reax Lights are an innovative system consisting of bright lights developed to turn any workout session into a highly effective and interactive training experience.
Reax Lights are a wireless lights system developed by the Italian company Reaxing to make any kind of training session interactive. Using visual and sudden stimuli, the system trains the user's responsive ability through a wide range of customized workouts. Each light uses integrated magnets to quickly connect with any iron surface and the lights can be arranged in many different ways to meet the user's training needs. The user can select different training programs using a Wi-Fi tablet.
Reax Lights use the Reaxing Sudden Dynamic Interference (RSDI), a unique, cutting-edge technology that can unpredictably alter motor gestures, causing sudden involuntary reactions during training. As a result, users develop the skills necessary to compensate for and correct their movements to deal with these reactions, which can boost their fitness level and protect them from injuries in sports.
The interferences can create unexpected stimulations and motor responses in a number of ways. They can affect the user's tactile, sensory and proprioceptive capabilities, as well as stability and balance. They can cause lack of coordination by creating false expectations, training the user to learn to manage his or her reactions in the best possible way. The technology was developed to teach the body to react to unpredictable interferences generated by different pieces of equipment and Reax Lights are part of a range of products designed to deliver this type of training.
Training with Reax Lights improves users' receptivity, endurance, speed, flexibility, reactive skills and overall performance by challenging them to quickly activate different muscle groups to perform coordinated actions. The technology stimulates and mobilizes users' vestibular and neuromuscular system more effectively than traditional training methods, boosting their performance both in terms of motor capacity and injury prevention.
Reax Lights are available with a range of accessories and suitable for users of any age. They can be used in reaction and speed training, group training, kids' fitness programs, or with a personal trainer. 
Watch the video below to see a few of the many training options available with the system.