Nike Rise 2.0 Digital Basketball Training Court Combines Experiential Design with Advanced Tracking
BY: FG Team
14 October 2016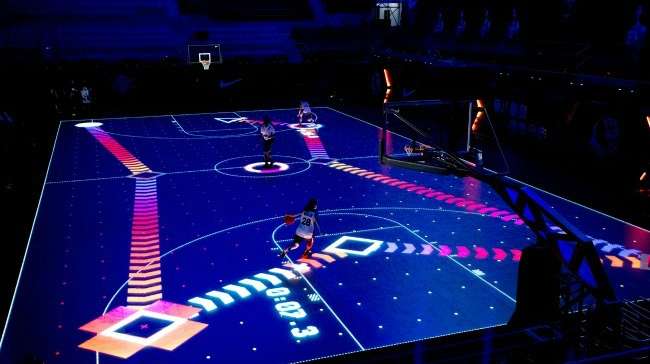 images: AKQA
Nike Rise 2.0 is a state-of-the-art basketball training system that combines an interactive digital court with advanced tracking technologies and a coaching app to track, assess and improve players' performance.
Nike Rise 2.0 is a fully connected basketball training platform that consists of a training app, an advanced tracking system, and a digital basketball court. With a seamless connection between the three, the platform enables basketball coaches to create a variety of drills using the app's simple, intuitive interface and then to measure, assess and improve the performance of any player training on the fully reactive basketball court.
Rise 2.0 provides basketball coaches with access to a library of hundreds of drills, allowing them to instantly create drills and draw plays that are transferred directly to the court. Coaches can customize the drills to specific skills, players or teams. The tracking system picks up players' left/right foot placement, speed and acceleration, capturing real time data during training and games. Over time, the data adds up, creating detailed profiles of individual players, and as a result the coaching app is able to recognize players' strengths and weaknesses and suggest how they can progress.
The app also allows coaches to rate players in real time and provides them with insights into players' progress through a player graph that displays data on individual players' shooting, passing, awareness, ball handling, footwork, rebounding and teamwork skills. The app shows a shooting heatmap, hang time and other data, highlighting areas in which players need to improve.
Rise 2.0 was developed by AKQA in collaboration with Artisan and dandelion + burdock for Nike. The first LED court was created in 2014, followed by an advanced coaching app in 2015. AQKA and Artisan worked together to progress the concept of the digital court and introduce advanced real-time foot tracking technologies, court feedback, and smart coaching tools and apps, while dandelion + burdock helped with live data visualizations for the court. The resulting digital court is a vibrant, fully reactive environment that combines cutting edge technology and experiential design.
The training ecosystem was showcased at a number of weekly shows as part of Nike's Rise 2.0 initiative, launched to help kids reach their full potential both on and off the court and to teach them the importance of staying active. In the summer of 2015, the initiative engaged some of the world's best basketball players, including Kobe Bryant, LeBron James, Anthony Davis and Paul George, for an Asia tour that included visits to Manila, Shanghai, and other cities.
Watch the video below to learn more about Rise 2.0.