IHRSA 2016 to Bring Together Health and Fitness Industry Leaders in March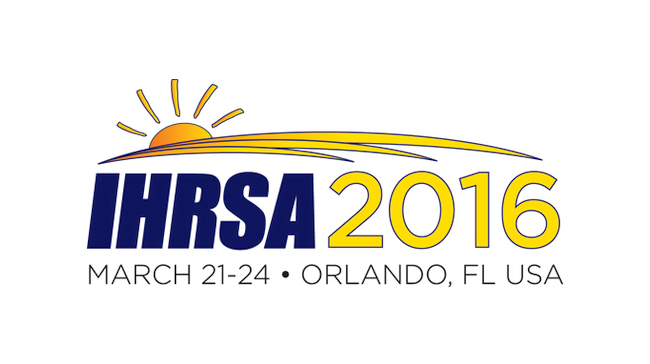 images: IHRSA, PAVIGYM, EXERGAME FITNESS, NEXERSYS, SPIVI, INTERACTIVE FITNESS, VERSUS, CONCEPT2, WEXER VIRTUAL
IHRSA 2016 will welcome fitness and health industry leaders and unveil the latest innovations and technologies at the 35th Annual Convention & Trade Show in Orlando, Florida, from March 21 to 24, 2016.
IHRSA 2016, the 35th Annual Convention & Trade Show, will showcase some of the hottest and most innovative fitness and health solutions on the market when it opens its doors at the Orange County Convention Center in Orlando, Florida, on March 21, 2016. The four-day event will also feature keynote sessions, educational seminars, exercise sessions, and social events in the evening to give industry insiders an opportunity to mingle and catch up.
IHRSA's mission, which underlies the annual event, is to bring together an international tribe of health industry professionals in an effort to find effective solutions to combat inactivity by presenting various ways to motivate people to modify their behaviour and change their habits.
Physical inactivity is a global problem, one that carries negative effects comparable to smoking, and the costs of treatment associated with inactivity and obesity have reached a staggering $200 billion a year in the U.S., China, India and the U.K. The health club industry has an opportunity to address inactivity through innovative solutions that tackle the social and emotional components of the problem, as well as the medical side of it. By bringing industry professionals together, IHRSA helps forge partnerships and highlight programs that play an important role in disease prevention and management. Additionally, the association aims to bring the industry's message to top government officials in an effort to highlight various programs and initiatives that promote healthy lifestyles.
IHRSA 2015 was a massive success, offering strong evidence of the rapidly evolving industry and showcasing an impressive range of cutting edge technologies and solutions. Watch the video below to see the highlights of the event and hear what industry professionals had to say about the opportunities it presented to them.
The IHRSA International Convention & Trade Show is an industry-defining event every year, featuring the most complete line-up of the industry's leading brands and offering education on the topics that matter the most to fitness and health club operators. The IHRSA Convention is open to facilities eligible for IHRSA membership, while the Trade Show is open to all fitness and health industry professionals.
The IHRSA 2016 Trade Show will welcome more than 400 exhibitors over two full days – March 22 and 23 – and showcase the latest models of popular fitness equipment, many of which will have their world premiere at the show. Visitors will get a chance to try out the newest strength and cardio machines, see what the latest trends are in every segment, and save big on trade show deals when getting new equipment for their facility. The product categories at the show will cover everything from fitness equipment, software and nutritional products to solutions for performance testing, body composition analysis, and heart rate monitoring.
Interactive Fitness will present Expresso Bikes, the popular interactive bike trainers that use more than 40 virtual tours and innovative virtual cycling technology to offer realistic and compelling group rides and fantasy games, and to allow users to chase their personal best score.
Nexersys will showcase some of its most popular interactive boxing trainers, including the Nexersys Commercial Model and the Cross Body Trainer. These machines use interval training to help improve users' striking technique and give them an intense full-body workout in different types of gaming rounds.
Concept2 will bring its popular indoor rowers (Model D and Model E) and the Concept2 SkiErg, an indoor skiing ergonometer for Nordic ski training.
Pavigym will unveil the latest edition of the PRAMA, the company's revolutionary interactive training system for gyms and fitness clubs. PRAMA 2016 will introduce several new ground-breaking features, but these have yet to be unveiled at the show.
Spivi will present the latest edition of the Spivi Studio, Spivi 365, and the Spivi Arena. The company has recently launched major software releases for its popular indoor cycling products to enhance the experience for users and facilitate the use of the software for instructors with a variety of new features and upgrades.
Visitors at the Wahoo Fitness booth will get a chance to learn more about the GymConnect platform and StudioConnect group fitness software.
Pulse Fitness will present the new Trixter VR, which offers users a 360° virtual cycling experience using VR goggles for individual or multiplayer workouts. The new trainer is the world's first fitness machine to use facial recognition to log data.
Pulse Fitness will also bring the Versus Personal Fitness Trainer, an innovative indoor fitness solution that tracks, scores and gamifies workouts using a smart weight rack.
Fit Interactive will present 3Kick and Heavy Ball, two solutions that deliver an intense full-body workout using interactive cues to engage users and motivate them to get the high scores.
Exergame Fitness will showcase the tWall 64, the largest edition of the popular interactive fitness wall that offers engaging workout sessions to improve speed, reaction time, focus and coordination.
Danish manufacturer Wexer Virtual will bring its latest solutions for virtual group cycling classes that allow fitness club operators to maximize the use of their space with over 600 different classes.
Other companies to showcase their latest fitness equipment and accessories at the show include InBody, Polar, Garmin, Gopher, Tanita, My Zone, The Abs Company, JumpSport, Zumba, and Technogym.
The IHRSA Convention will feature a series of sessions to provide attendees with the latest insights into consumer behaviour and ways to grow their business, increase their membership, and make smart investments. The event will also host the 7th Annual Women's Leadership Summit, sponsored by the American Council on Exercise (ACE), on March 21. The summit will offer insights into strategies for improving one's well-being, advancing professional and personal skills, and thriving despite the challenges that industry professionals commonly face.
Visitors attending the "Making Connections" orientation session will learn how to make the most of their IHRSA experience by establishing their game plan for success, while the networking receptions will help them connect with like-minded professionals.
Finally, the Bash for Augie's Quest, taking place place on March 23, will celebrate the fundraising efforts in support of finding effective ALS treatments.
IHRSA runs from March 21 to March 24, 2016 at the South Hall Building of the Orange County Convention Center.