Game-Bike Delivers Range of Interactive Fitness Training Options
BY: FG Team
22 August 2016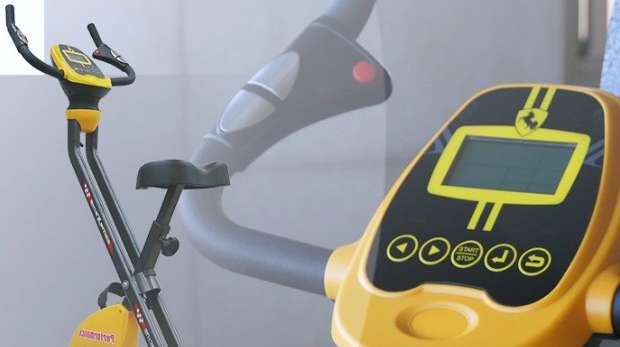 images: GAME-BIKE INTERNATIONAL
Game-Bike International delivers interactive exercise bikes that immerse users in virtual worlds and let them play games using the bike as a game controller.
Game-Bike, an interactive exercise bike that uses Bluetooth to send exercise data to smart devices, allows users to enjoy a variety of virtual worlds on a multifunctional screen while using their stationary bike as a game controller. The fitness bike effectively turns smart devices into personal trainers and has programmable functions that utilize the bike's distinctive design.
Game-Bike is available as a stationary bike or an X-bike, the latter of which has a compact, foldable design and comes with programs for cardio, weight loss and muscle training. With an ergonomic design, a large, comfortable seat and adjustable height, the bikes offer a variety of training options, including aerobic training, mountain training, ground training and downhill games. The bikes are compatible with iOS and Android devices and have built-in Bluetooth 4.0. Some of the apps let players upload their scores on the cloud, allowing them to compare their results to those of their friends and family. A free SDK for both iOS and Android is available to developers looking to create new apps for the bikes.
Game-Bike is one of the innovative solutions developed by Game-Bike International, a Taiwanese company that also supplies the interactive Game-Stepper, a trainer that uses magnetic resistance to exercise users' hip, knee and ankle joints, the Game-Spinner, which connects with smart devices to combine exercise and virtual games, and the ZigZag PangPang, a trainer that uses rocking motion to improve users' balance and focus.
Game-Bike International develops interactive fitness solutions designed to turn exercise into a fun, social experience, allowing players to experience virtual environments while playing games and keeping fit. Founded by Performance X-bike and Lager Technologies in 2014, the award-winning company also develops rehabilitation trainers and collaborates with VR goggles manufacturers to deliver an even more immersive virtual experience to users.