Climbing Challenge Introduces Competition to Climbing Gyms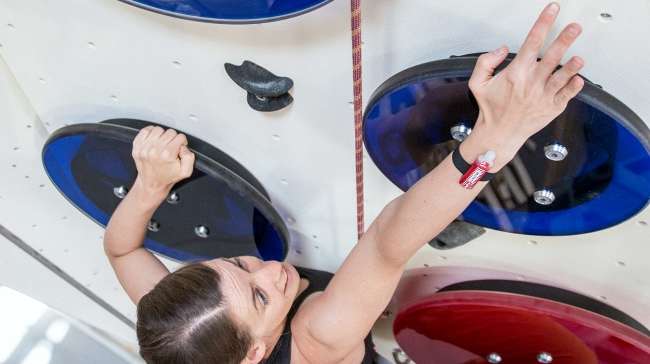 images: ZHAW, ARANEA+
The Climbing Challenge is an innovative solution developed to gamify climbing gyms.
The Climbing Challenge is a unique new technology that allows climbers to track their performance, score points and compete against others as they climb. The system uses wireless RFID (radio frequency identification) technology to introduce a fun, interactive experience to climbing gyms and make climbing more exciting for beginners and experienced climbers alike. The solution consists of sensors that are placed on the gym walls and wristbands that climbers wear to record and evaluate every route they complete. The wristbands are equipped with a chip that identifies and locates climbers using radio waves.
The system essentially transforms climbing into a game, challenging climbers to climb different routes in specific ways to add more fun to their efforts and motivate them to keep working out. Climbers can check their scores on touch screens mounted on the wall at any time to see how they compare with others.
The Climbing Challenge project was initiated by Aranea+, a sports and leisure facility in Schaffhausen, Switzerland, in 2015 and developed with the support of the Institute of Business Information Technology at the Zurich University of Applied Sciences (ZHAW) School of Management and Law in Winterthur, Switzerland. The modified Aranea+ climbing gym was opened in September 2016.
The Climbing Challenge system uses products created by SPORTident, a German developer of user-friendly electronic timing and identification systems. Climbing walls are equipped with SPORTident AIR+ control stations and the climbers' wristbands have integrated SPORTident ActiveCards (SIAC). The ActiveCards, which are mainly used in mountain biking, trail running and adventure sports, register the time and code number of the AIR+ compatible SPORTident station, making it possible to track climbers' movements on the wall.
The system does not require climbing skills and is very well suited for families, students, and team events, but can also be exciting fun for experienced climbers. The routes add a lot of variety with a number of different options, including time measurement for speed and rotating discs for extra difficulty.
The Climbing Challenge was unveiled to the public at the 2017 CeBIT trade fair, held in Hannover, Germany from March 20 to 24. Watch the video below to see the experience it delivers.