Blue Goji Unveils Infinity Treadmill at SXSW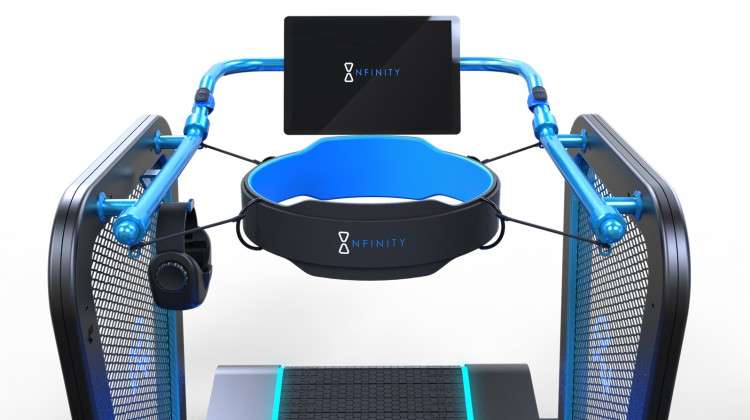 images: BLUE GOJI
Blue Goji presented its patented Infinity treadmill prototype at the 2018 South by Southwest (SXSW) Conference & Festivals, held in Austin, Texas from March 9 to 18.
Blue Goji unveiled its new patented Infinity treadmill prototype at the SXSW Interactive Expo and the SXSW Gaming Expo, held as part of the South by Southwest (SXSW) Conference & Festivals in Austin, Texas from March 9 to 18, 2018.
The Infinity treadmill is a concept with a versatile range of applications in gaming, training and rehabilitation. It uses cutting edge technology to deliver unique capabilities in traditional training, conditioning and rehabilitation programs, combining tracking, bio-feedback and interactivity to provide additional benefits and features in games developed by Blue Goji and third-party developers.
The treadmill allows for natural torso movement and a wider range of body motions, turning the user's body into a game controller. It uses a patented tension-sensing belt to make the user feel more stable while training or playing games.
The treadmill's patented design opens up a variety of options for new types of meditative exercises, balance workouts and cardio training. For instance, runners training for a marathon can create a custom resistance profile that simulates the real course. GoBikes, one of the games demoed at SXSW, communicates with the treadmill to automatically increase or decrease the resistance to mimic the feeling of going uphill and downhill, while another game, Furiends, combines virtual reality and augmented reality to allow players to care for their own dog in an AR smartphone app or immerse themselves in memorable adventures in VR.
The self-propelled treadmill is designed not only for running, but also for other types of exercises, including standing yoga and tai-chi. It allows users to play games with their VR headset on for a fully immersive gaming experience.  The platform has a social component to it, allowing users to connect with others and participate in online tournaments or workout sessions.
In rehabilitation, Infinity can be used to immerse patients in VR or 2D games or programs that help speed up their recovery by encouraging them to keep performing various exercises and by making the process more fun for them. The security-sensor belt makes the treadmill particularly well suited to older adults as it eliminates the fear of falling, which often discourages them from getting the daily exercise they need to stay healthy.  The treadmill also features parallel bars, which makes it very well suited for VR arcades, fitness centers and gyms, as well as rehabilitation clinics and hospitals.  
The Infinity prototype marks the evolution of Blue Goji's GojiCare platform and is designed to deliver a wider range of physical and neural benefits of focused cardio workouts. It helps condition users' muscle memory and cognitive capability. To reaffirm the company's commitment to promoting fitness and health, Blue Goji will work with healthcare practitioners and researchers to address some of the common issues associated with aging and various mental conditions.
The Infinity treadmill is manufactured by WOODWAY USA, a Wisconsin-based company specializing in creating custom, hand-built treadmills, and features the company's patented innovative mechanical slat belt design. The treadmill was also designed in part by M3, the design agency that previously helped Blue Goji with Goji Play controllers, which won a Red Dot Design Award.
The Infinity treadmill and its GojiCare platform run on Windows and support Blue Goji and third-party games and apps, as well as Oculus and Vive VR headsets. The platform allows users to create, manage, download and share their workout programs and training profiles with others.
Each Infinity unit can be configured and customized to meet the client's requirements. By separating the hardware from the continually evolving technologies – PCs and VR headsets – Blue Goji is creating a platform that will not become obsolete in the foreseeable future.
"The Infinity is an excellent example of 'bleeding edge' technology," says Coleman Fung, Blue Goji co-founder and chief executive officer. "It is also a great example of our steadfast commitment to the gamification of the health and wellness sector, and our proven ability to transform mundane cardio equipment into a new, fun platform. Users cannot only walk or run on Infinity with their own custom training profiles, but they can also play immersive VR and 2D games using a range of body motions. Users will benefit from feeling more stable and secure because of our patented tension-sensing belt. In fact, with a wider range of body motions, users can enjoy meditative and balance exercises like tai-chi and standing yoga. With Infinity, the human body becomes an active joy stick, not only for gameplay but also for new types of exercise and conditioning programs, including VR-enabled rehabilitation."   
The Infinity treadmill will be commercially available in early 2019. Watch the video below to see the immersive experience it delivers.